Hair Transplant in

Iran
Are you ready to start your hair transplant journey in Iran?
You can dramatically change the way you look and feel with us!
Contact one of our medical advisers now to arrange your hair transplant trip in Iran for you or to get a beard or eyebrow transplant at an attractive price and with high quality.
We can also combine your medical trip with a memorable holiday in Iran as you wish.
Hair Transplant
Hair transplant or hair restoration is a minimally invasive outpatient cosmetic procedure for baldness treatment in which a plastic or dermatologic surgeon takes hair follicles or removes hair grafts from a region that has high hair density (hair bank), such as the side and the back of the scalp (donor area) to relocate or transplant it to another part that suffers from hair loss or thinning (known as the "recipient" area).
Hair transplant can be done on various parts of the body including the head, the eyebrows, the eyelashes, the beard, and the mustache. To avoid pain, local anesthesia is usually applied in the donor and receiver areas.
Hair loss is generally caused by various factors mainly aging, genetic factors and heredity, stress, hormone changes, unhealthy diet, vitamin deficiency, medical disorders, and diseases.
Keep in mind that hair transplant is NOT a good option for all people, for example, for individuals whose hair loss is due to medical reasons such as chemotherapy, or for those who are prone to keloid scars.
| | |
| --- | --- |
| Duration | 4-9 Hours |
| Anesthesia | Local |
| Recovery | 10-14 Days |
| Clinic Stay | Half-day |
| Total Stay | 3 to 5 Days |
| Back to Work | 7 Days |
Hair Transplant in Iran
Hair Transplant with Low Cost and High Quality in Iran
Through the recent 2 decades, Iran has become one of the top-quality hair transplant hubs in the world. Many people from all over the world travel to Iran annually for hair transplantation solutions. As a destination for people who are looking for cosmetic and medical services, Iran has brought together high quality, modern clinics with the latest techniques, distinguished surgeons, affordable prices, and high competition. Moreover, getting a hair transplant in Iran allows you to take a break and visit top tourist destinations in Iran– one of the most ancient civilizations in the world.
You do not need to worry about hair loss anymore as a hair transplant in Iran will provide the final effective solution to your problem, and our professional medical team offers you the highest International standards of medical practice via advanced devices. Regarding your health, safety, and satisfaction, we only confirm the highly experienced specialists and high-ranked board-certified surgeons.
The procedure, which takes about 8 hours, is performed by an experienced medical team in modern clinics according to the latest methods. In some cases, several sessions may be necessary for a thorough treatment. The recovery takes nearly 3 to 4 days. It is common if the transplanted hair falls 2 to 4 weeks after the surgery due to the natural hair growth cycle. The hair will grow again and patients usually see the initial signs of treatment after 4 months, but they mostly have to wait to enjoy the full result for about 8 to 12 months or even longer.
At Iran Medical Tours, we provide you with all free medical information and consultation in an all-inclusive hair transplant package at a reasonable price. We accompany you throughout your treatment journey; from your T-visa authorization code and airport reception to hotel reservations and luxury transportation service as well as a journey to explore and wander in the most beautiful places of Iran after your treatment sessions.
The logistic service is different for American, British, and Canadian nationals according to Iran's Ministry of Foreign Affairs.
Hair Transplant Cost in Iran
The first question that comes to people's minds when thinking about hair restoration is how much a hair transplant in Iran costs. In fact, Iran is one of the most budget-friendly destinations for high-quality hair transplants in the world. The average cost of a hair transplant in Iran varies from $500 to $2500, based on the surgeon's education and level of expertise, the medical center reputation, the complexity of the surgery, the number of grafts required, etc., that is still much cheaper compared to other countries such as the US, UK, European countries, even Turkey, the United Emirates, and India. The cost includes all relevant fees such as the appointment, anesthesia, operation, and post-op recovery.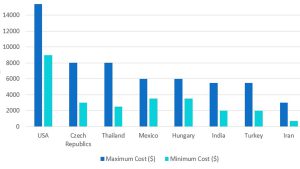 The cost of Hair Transplant in Iran compared to other Countries
Hair Transplant Pre-operation Instructions
Through the hair transplant consultation, the doctor will offer the appropriate method for your case based on factors such as the thickness of the hair strands, your hair color, texture, density, hair loss severity, your preferences, and favorite results. The appropriate hairline should also be determined in the consultation session because it is of great importance when it comes to the aesthetic features of one's appearance.
In general, the doctor will ask you:
about your medical history and conditions such as drug allergies, and current medications, if any

about your previous surgeries

to evaluate your overall health

to do lab tests

to avoid smoking for 24 to 48 hours before the operation

to stop drinking alcohol a week prior to the procedure

to avoid taking some medications such as anti-inflammatory or antiplatelet (blood thinner) drugs like aspirin, multivitamins, and herbal supplements
Hair Transplant Procedure
Hair transplantation is usually done by well-experienced technicians under the doctor's supervision.
Hair Transplant Methods in Iran
The Most Common Hair Transplant Methods in Iran Include:
FUT (Follicular Unit Transplantation, also known as FUSS, i.e. Follicular Unit Strip Surgery)
In FUT, which is the most common traditional way, a strip of tissue containing hair follicles is removed from the donor area at the back of the head and separated into (4000 to 5000) grafts. Then, the dissected grafts are planted in the recipient area.
People with large or crown baldness and those who prefer long hair are better candidates for this method.
Advantages of FUT:
High speed of harvesting grafts

Higher rate of follicle survival due to the shorter time the grafts stay outside the body

Extraction of the higher quality hair from the patient's scalp

No need for the donor site to be shaved completely

Suitable for transplantation of a large area of hair
Disadvantages of FUT:
Remaining linear scar in the donor site after the surgery

Longer recovery period (10-14 days) due to the invasiveness of the process

Unsuitable for professional athletes and those with keloid scars on their head
FUE (Follicular Unit Extraction)
In FUE, which is more modern and less invasive than FUT, a part of the donor site is shaved. Then, strands of hair (as many as 2000 grafts) are separately cut out by making circular incisions around them. The extracted grafts are inserted into holes created in the bald area just like in FUT.
The number of follicles harvested depends on the amount of hair density in the donor area, which will be different for each person.
People with small baldness and people who prefer short hair are better candidates for this method.
Advantages of FUE:
Shorter healing process (than the FUT method) (5-7 days)

No visible scars on the head, but only tiny dots with little or no visibility, unless you shave your head completely

No need for stitches

Less post-operative pain than other methods

The possibility of harvesting thinner grafts for planting in the growth line

The possibility of removing body hair

The possibility to do light sports activities a few days after the operation
Disadvantages of FUE:
Time-consuming

A little more expensive (than FUT)

Fewer number of grafts harvested in one session

More possibility of damage to the grafts due to the longer time they stay outside the body

The need for a hair bank with a larger area

Need more sessions to reach high densities
FIT (Follicular Isolation Technique)
In FIT, which is a new version of FUE, the hair follicle is extracted or isolated one by one in the donor site. The difference between the two methods lies in the surgical instrument used to extract or isolate the hair follicles.
Advantages & Disadvantages of FIT:
The advantages and disadvantages of this method are the same as FUE.
A combination of FIT and FUT
In this technique, more grafts (over 4,000) are implemented on the scalp compared to other techniques, so it is used for extensive baldness.
Advantages:
Cost effective

Taking shorter time

High quality harvested grafts

Higher density covering a larger area

Other advantages are the same as FUT and FIT methods
 Disadvantages:
Scars remaining

Improper for those who had already experienced transplantation or whose hair bank is damaged

Need for stitches (due to the strip removal)

A longer period of taking rest is needed
Other Methods of Hair Transplant in Iran Are as Follows:
All these methods have been derived from the two main methods of FUE and FUT, with little deviation.
This method is similar to FIT, with the difference that it is less invasive, and the follicles are removed using modern automatic tools so that it brings about natural-looking results. If the hair density in the hair bank area is proper and sufficient, it could be possible to remove over 14,000 follicles for transplantation.
Advantages of SUT:
All the advantages of the FIT method

Higher speed and the least amount of damage to the follicles

Short recovery period

No scars left

The possibility of reaching high density in just one sitting
 Disadvantages of SUT:
A higher price (than other methods such as FIT and FUT)

A higher percentage of grafts are damaged if the surgeon does not have enough skill
In this accurate method, the follicles (from 1 to 5 hair grafts) are removed using fully automatic electric holders without any extra tissue; therefore the amount of human error is reduced. The result looks completely natural.
The person can wear his hair short because the donor area looks unaffected after the procedure.
Advantages of Micrograft:
No scarring left

Faster procedure

The possibility of harvesting more grafts in one session compared to SUT and FUE methods

The possibility of harvesting single or double hair grafts in the growth line

Higher density of implanted hair

Less damage to the grafts
Disadvantages of Micrograft:
The need for higher precision and patience during the procedure

The need for more than one session to achieve the desired density
In this method, the follicles are removed one by one, the same as FIT, from the hair bank area by very precise and delicate devices. Using miniature implanters allows the specialist to create holes of various sizes (as small as 0.6 to 0.9 mm) with no need to use surgical instruments for follicles extraction. Consequently, it makes this method less invasive.
This method is suitable for people with regional and partial hair loss.
 Advantages of Micro Fit:
No need for stitches

No scarring left

Very short recovery time

Using very accurate and adjustable tools for harvesting grafts

The possibility of taking fine grafts and single hair strands to make the growth line look more natural

The possibility of using hair from other parts of the body

Higher speed of harvesting grafts
 Disadvantages of Micro Fit:
Longer process (more than one session is needed to reach the proper density)

Not proper for people with weak hair bank
BHT (Body Hair Transplant)
This method provides the possibility of transplanting beard and chest hair to men. The technique of harvesting grafts in this method is similar to hair transplantation in FUE. The donation area is located in other parts of the person's body in addition to the back of the head and its surroundings. Since the structure of body hair is different from the head, these grafts cannot be used as the main grafts, but they can improve the density.
Moreover, since the hair in different parts of the body is in different phases of growth, the best time for hair removal is when the follicle is in its growth stage (and not in the resting phase), otherwise, it will have negative effects on the results.
Besides, the grafts should be taken from areas that have the same blood circulation as the scalp. If the grafts placed in the recipient area have more blood circulation, they will not receive enough nutrients and will not enter the growth phase; therefore the ideal results will not be achieved.
 Advantages of BHT:
The possibility of combining with other transplanting methods

Improving the density of transplanted hair

Suitable for people with a weaker hair bank
 Disadvantages of BHT:
The difference between body hair and head hair makes the hair look a little sloppy in the first years
A combination of BHT and FUT
This technique is suitable for people with extensive hair loss. First, the FUT method is used, and then, the BHT method will be applied on the same day or in other sessions.
In this method, the hair grafts (to 5,000) could also be taken from other parts of the body such as the chest and under the beard to reach more density in the recipient area.
 Advantages:
Cost effective

Taking shorter time

High quality harvested grafts

Higher density covering a larger area

Other advantages are the same as FUT and FIT methods
 Disadvantages:
It is the FUE method but done fully by an automatic device.
 Advantages of Super FUE:
Detailed analysis and scanning of the scalp and donated hair

Using smart advanced devices to harvest grafts

Precise adjustment according to the thickness of the hair and the depth of its root

Hair transplanted at hair growth angle
 Disadvantages of Super FUE:
Much higher cost than other methods
DHI (Direct Hair Transplant)
DHI hair transplantation method is done based on the FIT and FUE methods, but with minimal invasiveness and with special tools (with a pen named Choi pen). At the same time as each follicle unit is removed from the donor area, holes are created in the recipient area and the follicles are transplanted.
People with androgenic alopecia (usually referred to as male-pattern hair loss) are the best candidates for hair transplantation in this way.
Advantages of DHI:
Over 95% of the grafts remain healthy

Taking short time

No scarring left

Short recovery time

Faster speed of harvesting and planting reduces the time the grafts stay out which respectively increases the success rate of transplantation

Less possibility of infection

Hair transplanted at a more accurate angle
Disadvantages of DHI:
Higher cost compared to other hair transplant methods
In this method, which is done with advanced tools, both stages of removing and harvesting hair grafts differ from other methods. The procedure is done with a very fine blade that does not cause any damage to the scalp. Due to the high accuracy of the blade, a smaller volume of extra tissue is extracted that increases hair growth.
 Advantages of Sapphire FUE:
No scars

More hair density

Less possibility of infection

The possibility of transplanting more grafts compared to other methods
 Disadvantages of Sapphire FUE:
Unsuitable for people with weak hair bank or extensive hair loss area

High cost

Need more than one session to reach the desired density
The whole process of this method is done automatically by a special robot, and the doctor will only monitor its operation to make sure that no error occurs.
 Advantages of NeoGraft:
No damage to the hair bank

Short recovery time

High speed

High precision

Natural-looking hair

High hair density

No scarring left

No need for stitches

Fewer consequences than other methods
 Disadvantages of NeoGraft:
Although there are different techniques for hair transplantation, the nature of all methods is the same. They are only different in the way of the follicles harvesting.
In Iran medical tours, we also offer you the best techniques for hair transplant for men, beard and mustache transplant, eyebrow transplant, female hair transplantation, hairline lowering, and forehead reduction in modern clinics and hospitals with professional staff and proficient specialists.
You can contact us to learn more about our hair transplantation services.
Hair Transplant Postoperative Care
In general, you need to stay in Iran at least for 3 to 4 days after the hair transplant procedure. (Of course, this is a rough estimation and may be changed due to the circumstances, hair transplant method, and the number of sessions according to the doctor's recommendation.)
The common hair transplant after-care instructions include:
After the hair transplant, you can go to the hotel right away.

Take rest for a day after the procedure.

You may experience some pain, numbness, and swelling in the treated area which is normal and will disappear in some days.

In case of feeling sore or tender, take painkillers as prescribed by the surgeon.

Sleep with your head elevated and do not let it rub against your pillow for 3 nights.

Do not take blood thinners such as aspirin or any other medications without your doctor's approval.

You may need to use some medications (like Minoxidil), shampoo, and instructions prescribed by the doctor for 3 to 6 months.

Avoid drinking alcohol after the procedure because it can delay the healing process.

Avoid strenuous activities for 2 weeks.

Do not expose to direct sunlight for about a month.
If you wear a bandage, you can have it removed after about 3 days.
If you follow the instructions carefully, you can get back to work in 3 to 5 days and do exercise within 2 weeks.
Since avoiding the instructions precisely could end in undesirable results, the patients are responsible for following the instructions carefully in the recovery period.
Hair Transplant for Women in Iran
The most common types of hair loss in women include:
Receded hairline: This type of hair loss (which occurs in both men and women) can be treated with hairline lowering. In this case, the doctor removes hair from the hair bank and transplants it to the front of the patient's hair.
Women with spreading hair loss are not good candidates for this method.
Female-pattern baldness: In this type of baldness, thinning or balding spreads over the head and the hair loss pattern is not distinct. Sometimes, PRP (Platelet-rich Plasma) and mesotherapy could be better treatments rather than hair transplant for this type of hair loss.
In PRP, the doctor injects a concentration of the patient's rich platelets into the recipient area, after centrifuging the patient's blood for about 10 minutes.
In mesotherapy, the nutrient boosters are injected into the scalp with an injection gun to nourish the hair follicle in depth.
Facial Hair Transplant in Iran (Beard and Mustache Transplant)
Facial hair transplant is usually done above the men's upper lips, or on their cheeks and sideburns to restore lost facial hair. The procedure is similar to the regular hair transplant and can be performed through both FUT and FUE techniques, usually under local anesthesia. To get a more natural-looking result, the hair grafts should be transplanted with the correct angle, density, and growth direction. The procedure takes about 7 to 10 hours, depending on the technique used.
The facial hair transplant cost in Iran can vary from $900 to $2500.
Eyebrow Transplant in Iran
Eyebrow transplants can be performed through both FIT and FUT methods for men and women. The hair is usually taken from the head, but it could also be taken from other body areas. The advantages of eyebrow transplant in Iran include:
No pain due to local anesthesia

No scar is left visible after the surgery

Fast recovery

Looking natural
The eyebrow transplant cost in Iran starts from $800.
Popular Destinations for Cosmetic Treatments in Iran
Cosmetic surgeries, such as rhinoplasty, dental implant, plastic surgery, and hair transplant are popular among both Iranians and patients from other countries. There are modern specialized hair transplant centers across the country that are exclusively dedicated to hair transplant procedures. Among a great number of advanced beauty clinics and dermatology centers extended throughout vast Iran, Tehran, Shiraz, Mashhad, Tabriz, and Kish Island are among the most popular destinations for cosmetic treatments and surgeries, especially for hair transplants.
Seeing tourists with bandages around their heads has become a familiar scene in these cities. The tourists come from far and near countries such as Europe, Africa, Australia, and the USA, as well as the Middle East and neighboring countries, mainly from Iraq, Pakistan, and Oman.
Frequently Asked Questions about Hair Transplants in Iran
Is a hair transplant painful?
Under local anesthesia, the patient feels no pain throughout the process. After the procedure, taking the painkillers prescribed by the doctor will reduce the possible pain.
What is the best age for hair transplantation?
Although it is said that there is no age limit for hair transplantation, it is better to be performed when the hair loss process has stopped. So, it is recommended to do a hair transplant after 30 to achieve better results.
Is hair transplant permanent?
Since the follicles are selected from the back and sides of the head, which are resistant to hair loss and continue to grow, a hair transplant will last a lifetime in most cases. However, it varies from person to person and the transplanted follicles have a lifespan just like other follicles and the hair transplant durability could be affected by various factors, such as the person's age, lifestyle, hair type, and hair loss rate. If you notice hair loss in some areas, be sure to consult your doctor about taking supplements or other medical treatments.
What are the side effects of hair transplants?
Fortunately, modern methods of hair transplant performed by experienced doctors are safe. However, hair transplant, like other surgical procedures, can cause some mild discomfort, mostly including:
Allergy to anesthesia

Infection and bleeding

Scars and wounds

Redness and inflammation
Note that these symptoms may not be observed in all people. You should just follow the instructions given by the doctor carefully to prevent any possible complications.
Should I shave my head before hair transplantation?
There is no need to shave the head in the FUT hair transplant method, as well as other new methods such as DHI.
Does the transplanted hair fall out?
The implanted follicles fall out a few weeks after the surgery. This is actually part of the hair transplant process which is temporary and there is nothing to worry about. When the hair is shed, it is separated from the shaft and the follicle under the skin remains alive and active, so it continues to grow again approximately 6 to 9 months after the surgery.
Can people who suffer from hair loss due to genetics do hair transplantation too?
For people who suffer from hair loss due to hereditary and genetic issues, taking some drugs can help slow down the loss process, but they should consult a doctor for desired results.
Can I wear a hat after hair transplantation?
It is recommended not to use hats as much as possible for about a week to 10 days after the hair transplantation.
Can women do hair transplants too?
Almost all hair transplant methods can be used for women; however, because women's hair is thinner and longer, the hair transplant process is a bit more complicated. So, the doctor should first examine the hair loss pattern and the quality of the hair bank to determine whether the person is a suitable candidate for transplantation.
How long does the hair transplant procedure take?
It depends on the method used for planting. The more grafts needed, the longer the operation time. But generally, it takes about 6 to 8 hours.
Here, you can hear our dear Belgian guest's story about his experience of our services in Iran.